A massive sinkhole that opened up on the west side of the North Third Ring Road in Beijing this morning caused headaches for commuters and drivers, but it may signal something far more sinister.
The sinkhole opened up at the northwest corner of a Lianxiangqiao auxiliary road, located just west of Dazhongsi Station on Line 13. Explaining that some of the sewage pipes in the area constitute a "hidden danger," the Beijing drainage group sent out emergency vehicles and personnel to fix the hole.
Life should return to normal when repairs are expected to be completed by today noon, but sinkholes remain a constant problem in the city that may get a lot worse.
A sinkhole suddenly appeared underneath a parked car in Beijing's Fengtai District in 2015 (shown above), nearly devouring it while a 25-meter-wide sinkhole that opened up at a construction site for the Beijing Metro Line 14 led to attempts to bribe a local reporter not to write about it.
The year before, a massive five-meter-wide sinkhole opened up in the Fuhuajia neighborhood in Chaoyang while a sinkhole measuring some 20 meters in diameter shut down Guangqu Road in Shuangjing.
Things became so bad that sinkholes were responsible for swallowing an entire truck in 2011 as well as four pedestrians in Beijing's Xicheng District in 2012 (shown below), killing one victim.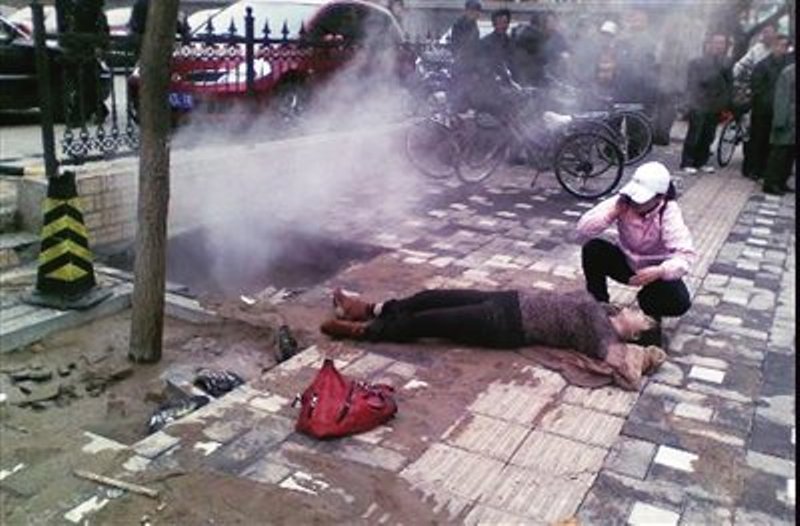 These sinkholes could be caused any number of reasons like illegal digging, subway construction, or in the case of the Xicheng pedestrians, broken heating pipes. But whatever the reason, the phenomenon of sinkholes in Beijing should be a daily reminder to us that the entire city is sinking – literally – at a rate of 11 centimeters per year.
The problem lies with the city's reliance on extracting groundwater for its drinking water, estimated at 3.5 billion cubic meters each year. With the soil crumbling away from the city's foundations, cracks have appeared throughout the city such as one 800 meters wide and measuring 25 kilometers long that was considered a threat to the Beijing Capital International Airport in 1998.
The city has since tried to wean itself off the use of local wells, instead utilizing the "South-North Water Transfer Project" to bring water to country's arid northern areas.
But, if you're still worried about holes, you can be reassured that the city is addressing the issue. In 2013, the city set up 1,000 safety nets to catch anyone unlucky enough to fall down any one of its open holes.